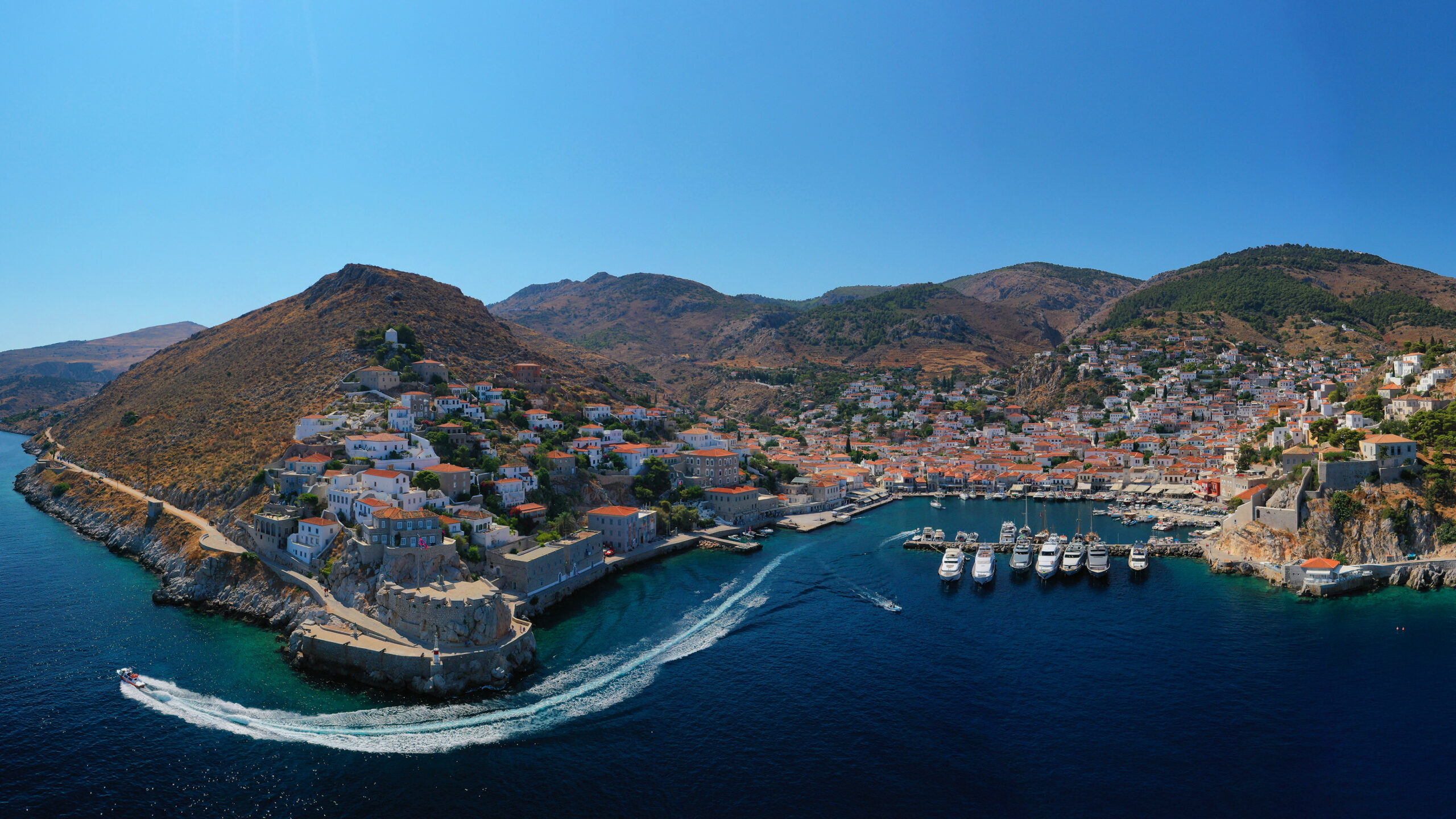 Discover the Saronic Gulf
The Saronic Gulf, located off the coast of the Peloponessus and Attica, offers an idyllic voyage for sailing enthusiasts. With its picturesque islands, calm waters and abundance of go-to sailing destinations, the Saronic Gulf should be high on the list for any sailor looking for a pleasant and enjoyable journey.
The Saronic Gulf sits between the mainland of Greece, the mountains and the sea. This gives sailors a tremendous variety of landscapes, from isolated beaches to striking coastal formations, the Saronoic Gulf has it all.  Along the way, sailors can voyage to destinations such as Aegina, Agkistri, Poros, Hydra, Spetses and colonize with an array of exciting activities.
A Sailing Adventure in the Saronic Gulf, is also known for its affordability. Docking and mooring fees are inexpensive, and there is plenty of choice for sailboat charters and yachts.The region is home to some of the best boating conditions in the world with fair weather and consistent winds providing an enjoyable experience for all. For a peaceful and affordable sailing experience, the Saronic gulf is an excellent choice.
Aegina
Aegina lies off the coast of Saronic Gulf and is the largest of the islands. Its coastline is dotted with sandy beaches and rocky bays, offering plenty of opportunities for swimming, scuba diving and other water activities. Its culture, landscape and architecture are among the most interesting in the region and it is home to the famous Temple of Aphaea.
Agkistri
Agkistri lies east of Aegina, within the Saronic Gulf, and is considered one of the most beguiling and untouched islands in the region. It is 4km long and 1.5km wide and its terrain is perfect for leisurely sailing along its hidden bays and lapping shoreline. Its peaceful beaches and crystal clear water add to the rustic and charming atmosphere of the island.
For a truly unique experience, paying a visit to both Aegina and Agkistri is highly recommended. While the sailing experience between the two islands is unforgettable in itself, exploring their unique culture, cuisine and beaches make for an unbeatable trip.
Poros
Poros is a popular destination for sailing trips. It is filled with picturesque harbors and stunning backdrops, perfect for an unforgettable boating experience. It is renowned for its tranquil atmosphere and stunning views, filled with small yachts, fishing boats and ferries. Whilst in the harbor, tourists can join in the traditional Greek island life, enjoying the local restaurants, cafes and shopping areas. It is renowned for its cultural attractions, such as its Venetian era castle.
Hydra
Hydra is another popular Greek island, used as a major port for many trading vessels. It is renowned for its stunningly unspoiled coastline and is an ideal location for sailing and scanning. Visitors are able to dock in a variety of sheltered bays, perfect for relaxation and exploration. Occasional events can be found such as the popular yearly regatta, where visitors can participate, or just watch and be a part of the festivities.
Spetses
Finally, the stunningly beautiful Spetses is an ideal destination for sailing, offering verdant landscapes and crystal-clear waters. The island's numerous ports are the perfect spots for exploring the unique local attractions, such as its traditional Greek architecture, churches, chapels and excellent restaurants. Spectacular views can be enjoyed whilst sailing and exploring this wonderful gem of the Greek islands.
Thus, the enchanting Greek islands of Poros, Hydra and Spetses offer yacht and sailing enthusiasts a remarkable experience of beauty and culture, that ensures a truly memorable holiday.
Conclusion
The Saronic Gulf has something for everyone. With its varied landscapes, pleasant weather and abundance of marinas and harbours, it can offer yacht and sailing enthusiasts a remarkable experience of beauty and culture, that ensures a truly memorable holiday. Enjoy a safe and peaceful journey as you traverse the picturesque islands of the Saronic Gulf.
Explore our options: Charter your yacht